The development prospect of TPU automobile coating is promising
Categories:

Industry news

Author:

Origin:

Time of issue:

2020-08-31 09:18

Views:
(Summary description)
The development prospect of TPU automobile coating is promising
(Summary description)
Categories:

Industry news

Author:

Origin:

Time of issue:

2020-08-31 09:18

Views:
Car paint protective film is a relatively formal name, in the market, we are all conventionally agreed to paint protective film called car clothes.
Basic components of TPU car clothing:
Base material
1, role: the basic components of the invisible car coat, provide good light transmittance, toughness, is to prevent the car paint is scraped damage a solid barrier.
2. Type: Simply looking at TPU materials, it can be divided into:
1) Yellowing: The yellowing of ordinary TPU is an objective attribute. The reason is that part of the structure of TPU changes irretrievable due to ultraviolet light. The color changes from transparent to yellowing, and the yellowing degree can reach 40%-50%.
2) Yellowness resistance: It can be understood as an upgraded version of ordinary TPU. The main difference between the two is that the yellow-prone structure of the latter can maintain its original transparency under the influence of ULTRAVIOLET rays, and its final yellowness degree generally does not exceed 10%.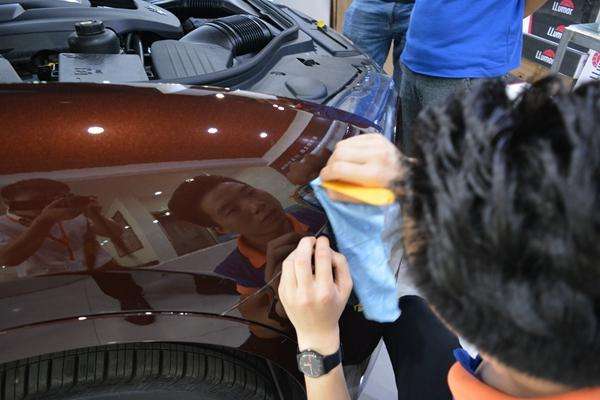 coating
1. Function: the first line of defense of the invisible car garment, preventing infiltration and erosion of foreign pollutants, and providing good automatic scratch repair function, providing better bright luster.
2. Type:
1) Sparse coating: In fact, it is the early coating technology of invisible car clothes, providing simple protection effect, but in fact, it is easy to fall off, dye and lose luster.
2) Dense coating: At present, the mainstream coating technology of high-end stealth car clothes focuses on enhancing the anti-fouling ability and with good hydrophobic performance, effectively improving the problems of corrosion, ash absorption and dyeing of traditional car clothes.
A rubber
1) Role: Let the base material and car paint closely fit.
2) Type: poor quality glue: unstable adhesion, easy to drop glue during installation, leaving offset printing on car paint. After use for a long time easy to degumming, stratification, bubbles, removed residual glue may also penetrate into the interior of the car paint, or tear film will take the car paint down.
High quality glue: the adhesion is very low, and can be adjusted repeatedly without any trace. After the water evaporates, the proper adhesion is maintained, so that the car paint and film are tightly glued and easily removed (after the film is removed, simply clean it with water and towel), which will not harm the car paint.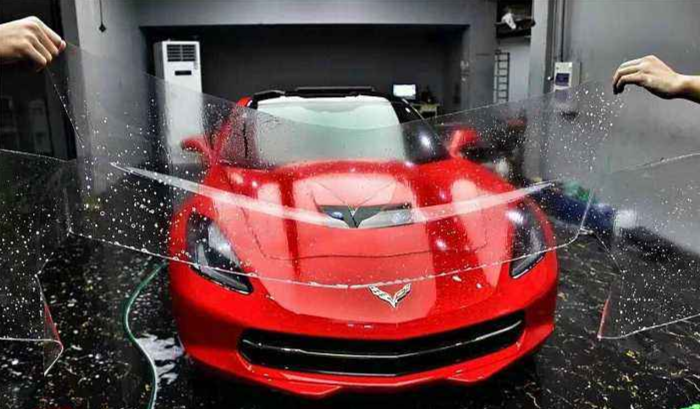 Development history of car clothing:
First generation: PU material, also known as "rhinoceros skin", was widely used in the early stage in the main engine factory, door handle, side skirt, bottom of rear leaf, front and rear bar Angle and other positions. It is a material that protects car paint purely by hardness.
The second generation: PVC material, compared with the first generation, this material appears more light and easy to stretch, the disadvantage is not easy to wrap, easy to change color, yellow, oxidation, etc. As a product that is already on the verge of obsolescent, it has almost nothing to offer except a lower price.
The third generation: TPU material (aromatic). TPU base material has the advantage of thermoplastic polyurethane elastomer rubber, which is famous for automatic repair and reduction of scratches and soft stretching, but still yellowing and aging.
The fourth generation: TPU material + coating (aromatic group). In order to improve the yellowing phenomenon of TPU material, coating was added to substitute the invisible car coat to resist yellowing, oxidation, aging and other problems, but the cause of the yellowing of the base material was not really solved.
The fifth generation: TPU material + coating (aliphatic), aliphatic TPU base material has more stable chemical properties, which fundamentally improves the problem of yellowing and aging.
It is understood that the size of a single roll of clothing available for a passenger car is generally 15 meters *1.52 meters, which can be converted to estimate that the TPU film used by a single roll of clothing is about 2.78kg. In addition, China sold 21.71 million passenger cars in 2019, according to the China Association of Automobile Manufacturers.
In the future, firstly, such a large volume of the automobile industry; secondly, RAPID replacement of other competing products by TPU; thirdly, rapid increase of vehicle clothing utilization in the future; TPU is expected to have great development potential in the paint coating industry.
Scan the QR code to read on your phone