Degradable PLA becomes a new raw material of thermoplastic polyurethane TPU
Categories:

Industry news

Author:

Origin:

Time of issue:

2020-07-27 14:50

Views:
(Summary description)
Degradable PLA becomes a new raw material of thermoplastic polyurethane TPU
(Summary description)
Categories:

Industry news

Author:

Origin:

Time of issue:

2020-07-27 14:50

Views:
Recyclable thermoplastic resin matrix composites
Petroleum-derived synthetic polymers play an important role in our society, affecting almost every aspect of modern life. However, due to improper disposal, they also cause serious "white pollution". Therefore, in view of the depletion of fossil energy and the increasing environmental problems, there is increasing interest and demand for the development of green composite materials with renewable resources. From an environmental perspective, recycling end-of-life polymers is one of the most cost-effective strategies to mitigate today's critical environmental problems by saving money, energy and natural resources.
In this context, thermoplastic resin matrix composites exhibit significant advantages over traditional thermosetting resins because they can be extended or recycled through a simple heating/cooling cycle, whereas traditional thermosetting resins lack the ability to be reprocessed or recycled after curing.
Thermoplastic polyurethane (TPU)
Thermoplastic polyurethane (TPU) is a block copolymer composed of alternating hard and soft segments along the trunk. The soft segment (SS) is generally composed of polyols such as polyoxyethylene glycol (PTMG) and polycaprolactone (PCL). The hard segment (HS) contains both isocyanates and chain extenders. It is worth noting that thermoplastic polyurethane is one of the most widely used and studied polymer materials, and differs in many ways from most other plastic types. TPU can be manufactured in a variety of forms with different properties, such as hardness and density, by simply changing the number and type of polyols, isocyanates or additives.
TPU is widely used in special forming parts, optical lenses, seals, gas separation films, shape memory materials and so on. TPU has both the elasticity of vulcanized rubber and the processability of thermoplastic. It can be as soft as rubber or as hard as hard plastic, thus bridging the gap between rubber and plastic. In addition, thermoplastic polyurethanes can be manufactured using a variety of processing techniques, and can be manufactured using melt mixing techniques, solution coatings, or vacuum molding.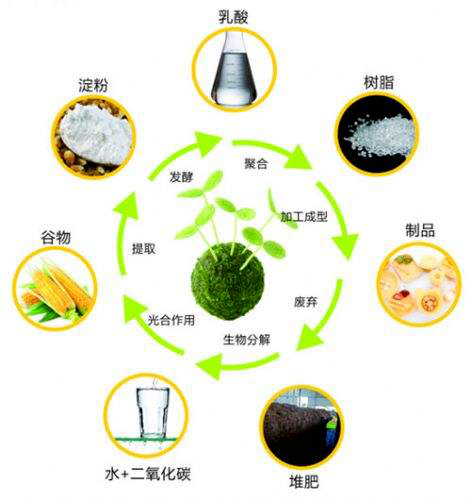 So far, the primary starting material for TPU is still non-renewable fossil fuels. In order to reduce the dependence on petroleum-based materials, the development of green renewable materials for thermoplastic polyurethane and other polyurethane varieties has attracted great attention. Vegetable oil is one of the most important renewable resources in chemical industry because of its biodegradability, wide availability and low price. Therefore, polyols extracted from vegetable oils, such as castor oil, tung oil, rapeseed oil, olive oil and palm oil, are widely used in the manufacture of renewable polyurethane. Vegetable oil is triglyceride, which is the product of esterification of glycerol and three fatty acids. In many cases, however, vegetable oils do not possess the appropriate hydroxyl groups for making polyurethane. After chemical modification, most vegetable oil polyols contain more than two hydroxyl groups or free long-chain fatty acids, which limits their application as starting materials for TPU elastomers.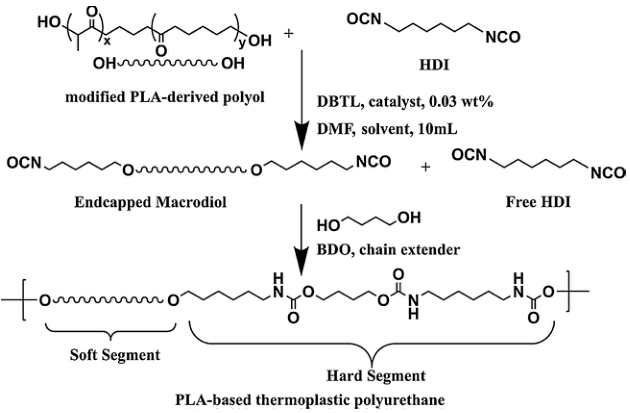 Thermoplastic Polylactic acid based polyurethane (PLA- Based TPU)
In recent years, polylactic acid (PLA) has attracted the attention of polymer scientists as a promising renewable polymer. PLA has a wider range of sources than vegetable oil and can be obtained from a variety of biomass through biofermentation, which is crucial for green and circular economy. Its good biodegradability and biocompatibility make it a competitive candidate material in biomedical field. At present, there is great interest in using PLA derivatives to design bio-based polyurethanes. Considering that the main chain of PLA is rich in side methyl, it can achieve strong internal consumption and efficient energy consumption, but efforts to study PLA based TPU elastomer as a potential green damping material are still limited.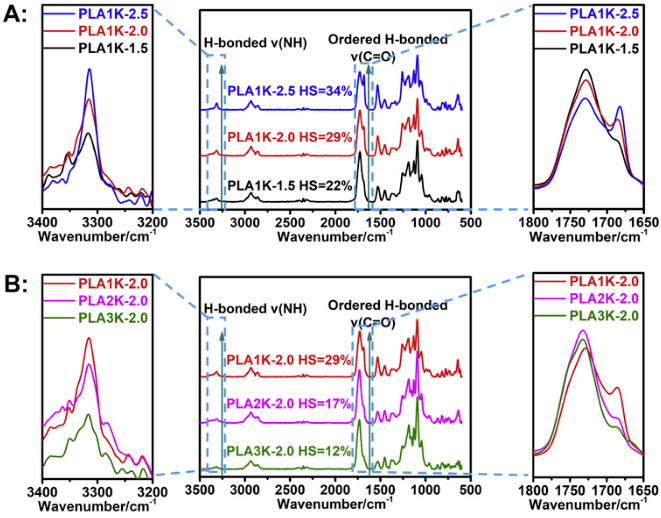 Recently, according to Industrial Crops & Products, researchers from Beijing University of Chemical Technology successfully synthesized a series of thermoplastic PLA based TPU by using polyols derived from PLA as the sustainable starting material of TPU through two-step solution polymerization.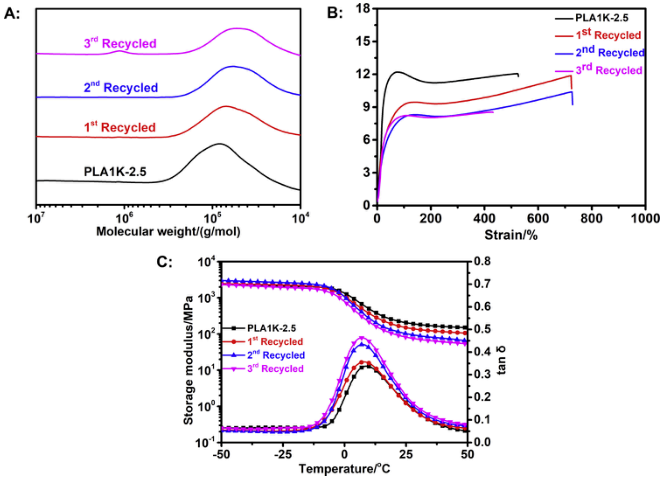 The properties of POLYlactide thermoplastic polyurethanes were characterized by Fourier transform infrared spectroscopy (FTIR), gel permeation chromatography (GPC), differential scanning calorimetry (DSC), dynamic mechanical analysis (DMA), and tensile tests.
The results show that the thermoplastic polyurethane based on PLA derivatives has better mechanical properties. It is worth noting that TPU exhibits significant damping performance near room temperature, making it a promising damping material. After several post-treatment cycles, the mechanical properties are maintained well and the damping properties are improved obviously. The team through the use of renewable polylactic acid derivative components, realizing the good balance the performance of thermoplastic polyurethane, show that polylactic acid derivative polyols can be used as a potential sustainable raw materials to replace oil polyols used in the preparation of thermoplastic polyurethane, this to increase renewable content in order to realize the sustainable development of thermoplastic polyurethane is likely to be fruitful.
Scan the QR code to read on your phone